WINNER!
We are thrilled to be the recipient of the 2019 Water Ionizer of the Year award from alkalinewater.com for our all new 11 series water ionizer. Check out the full write up here.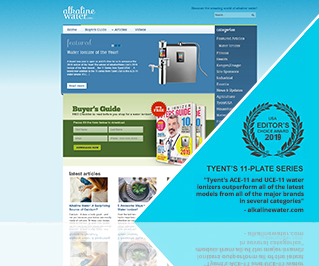 Guaranteed to have the best flow rate in the industry!!!
SHOP IONIZERS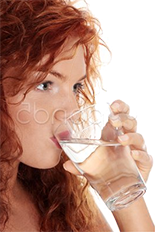 What makes the ACE water ionizer different?
1

Breathtaking Appeal

Slim, smart and stunning!

2

Streamlined

Smaller and streamlined so it fits nice and snug on your countertop. This smaller ionizer saves over 275 cubic inches of counter space!

3

Faster Flow Rate

Get your healthy, antioxidant-rich Tyent Water even faster.

4

Easy Load™ Filters

A new twist on simplicity! Save time and change your filters with more ease than ever! No more disconnecting tubes or wiggling behind your unit to change your filters.

5

Smartphone-Touch Technology

Now drinking the healthiest water in the world just got easier, smarter and way cooler!

6

Hydrogen Boost

The Tyent ACE is pre-fitted with the max amperage to give you the highest levels of healthy antioxidants.

7

Smart Spout™

Now it's your choice on where you place your ionizer! Left side? Right side? The choice is yours with the all-new Smart Spout™ center-mounted water-dispensing column.

8

Choice Advantage

4 Alkaline Levels and 3 Acidic Levels plus Turbo Modes.

9

All New Intuitive Interface with Tap Touch®

Get easier and faster access to all water selections with Tyent's new interface system.

10

Water By Design

All new, 3rd generation SMPS Plus with 10 Amps that enables you to customize your source water to your exact liking.
SHOP IONIZERS
YOU ASKED
FOR IT!!!
The ACE water ionizer features help simplify your life! Faster flow rate, smaller size, front-loading filters and smartphone-inspired screen are made just for you to help make your life easier!